Spain vs. Germany was an exciting semifinals. For all their phenomenal run in the previous matches (bagging eight goals in their last 2 matches – not to mention burying Argentina),
Germany
slipped. Truly a very bad timing to do so because the underachievers
La Roja
(Spain) played so damn well and owned the game (was able to maintain above 50% ball possession all throughout). Spain have advanced to their first ever FIFA World Cup Final. Wohooo!
The most coveted case este trophy in the world at the moment.
So it's going to be a very colourful final – La Roja (the Reds / Spain) vs. the
Oranje
(Nederlands). Though I love tulips, I am rooting for the mighty toros to win. Not only that red is my favourite colour but I love watching Spain play, most especially
Iker Casillas
- all those amazing footwork and ripped muscles... sigh.
Well walang gwapo sa Oranje eh kaya Spain na!
:)
Iker Casillas
– the hottest este best goalkeeper in this World Cup.
Other brilliant (Of course I mean hot.) players in La Roja's squad list:
David Villa
– position: Forward
Fernando Torres
– position: Forward
Cesc Fabregas
– position: Midfielder
Joan Capdevilla
– position: Defender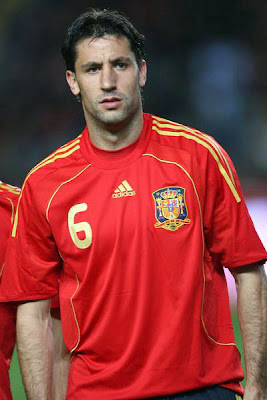 Xabi Alonso
– position: Defender
I LOVE FOOTBALL!
Wish I am in Spain when they win the World Cup to join the celebrations...
P.S.
HAPPY
31ST
BIRTHDAY TO MY
GORGEOUS BFF
!